Our technicians are trained and have met the standards to be recognized by Hyundai. As a vehicle is modified, it is important that the auto body shop you choose has the most up-to-date repair methods.
We have the repair methods from Hyundai to fix your vehicle
Our technicians are I-CAR trained and our facility has the right equipment.
We encourage the use of genuine Hyundai parts and will work with your insurance company through the repair process.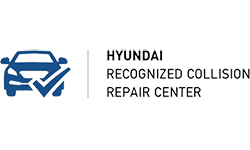 * Hyundai USA states that "while the use of Hyundai genuine parts is not required to keep your Hyundai manufacturer warranties, should damage result from the use or installation of non-Hyundai genuine parts, Hyundai or its authorized dealers would have the right to deny warranty coverage for that part and charge you for any repairs". https://www.hyundaiusa.com/myhyundai/consumerawareness.
Call Montrose Auto Body at (970)249-5154 to schedule your Hyundai Certified repairs today!