Montrose Auto Body is certified to repair the Fiat Chrysler group of cars, truck and SUVs. Our technicians have met the requirements needed to repair Dodge, Jeep, Ram, Chrysler, Fiat, SRT and Mopar vehicles.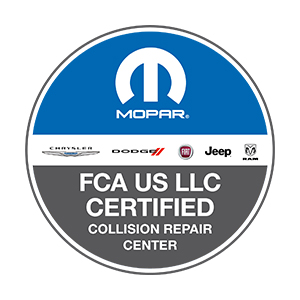 We are inspected on a yearly basis to ensure that we are meeting the standards of the collision certification program.
We have invested in the equipment needed to perform all auto body repairs recommended by the FCA program and I-CAR.
Call us today to schedule your repairs from the certified technicians at Montrose Auto Body!
For more information about the Fiat Chrysler Certified Repair Facility Program, please visit www.fcacertifiedshop.com.